Know what you need to care for your pet during natural disasters.
---
Hurricanes, fire, floods, earthquakes, and other natural disasters — you may have an evacuation or emergency plan for the people in your life, but do you have one for your pets? A pet disaster prep kit can definitely help to provide you with just a little more peace of mind about your BFF.
Here's what to have on hand for your dog, cat, puppy, or kitten in case disaster strikes. You can also download and print out our emergency checklist, developed together with the American Humane Association.
Be prepared and have a plan
---
In addition to basic supplies for your pets, it helps to have a communication plan with humans, too. Let family or friends know where you keep your evacuation kits, plus your plan for keeping your pet safe in an emergency. That way, you can best coordinate if disaster strikes.
Keep all pet medical and microchip records up to date
Current vaccinations are especially important during emergencies to help protect your pet, while having a microchip on registry can help you reunite with a lost BFF. Make sure to have printed paper copies on hand of all records, as online access to records isn't always possible in an emergency.
Have pet carriers handy
Each of your pets should have their own carrier. Keep them where they're easy to access. It can also help to plan how you'll transport your pet's food, as well as have access to fresh bottled water.
Designate a safe place if you have to evacuate
If your home is not safe for you, it's probably not safe for your pet. Find out what your local disaster assistance organizations provide for pets, and if local pet disaster assistance programs are available. Keep this info in your pet's emergency prep kit, and make sure your family also has this information in hand.
Essentials for your pet emergency kit
Each one of your pets should have their own evacuation kit, just in case you get separated or someone else needs to take care of your furry friend for a while. We recommend loading up a waterproof bag with:
Food and water for 3-7 days
2 weeks of medication (if needed)
Collapsible food and water bowls
Carrier or crate
Extra leash and harness
Blanket
Treats
Comfort toys
Reflective tag
Important documents

Medical records, including any special needs
Microchip information
Contacts for the nearest shelters and emergency clinics
A photo of your pet, in case you get separated

Pet first aid kit See what you need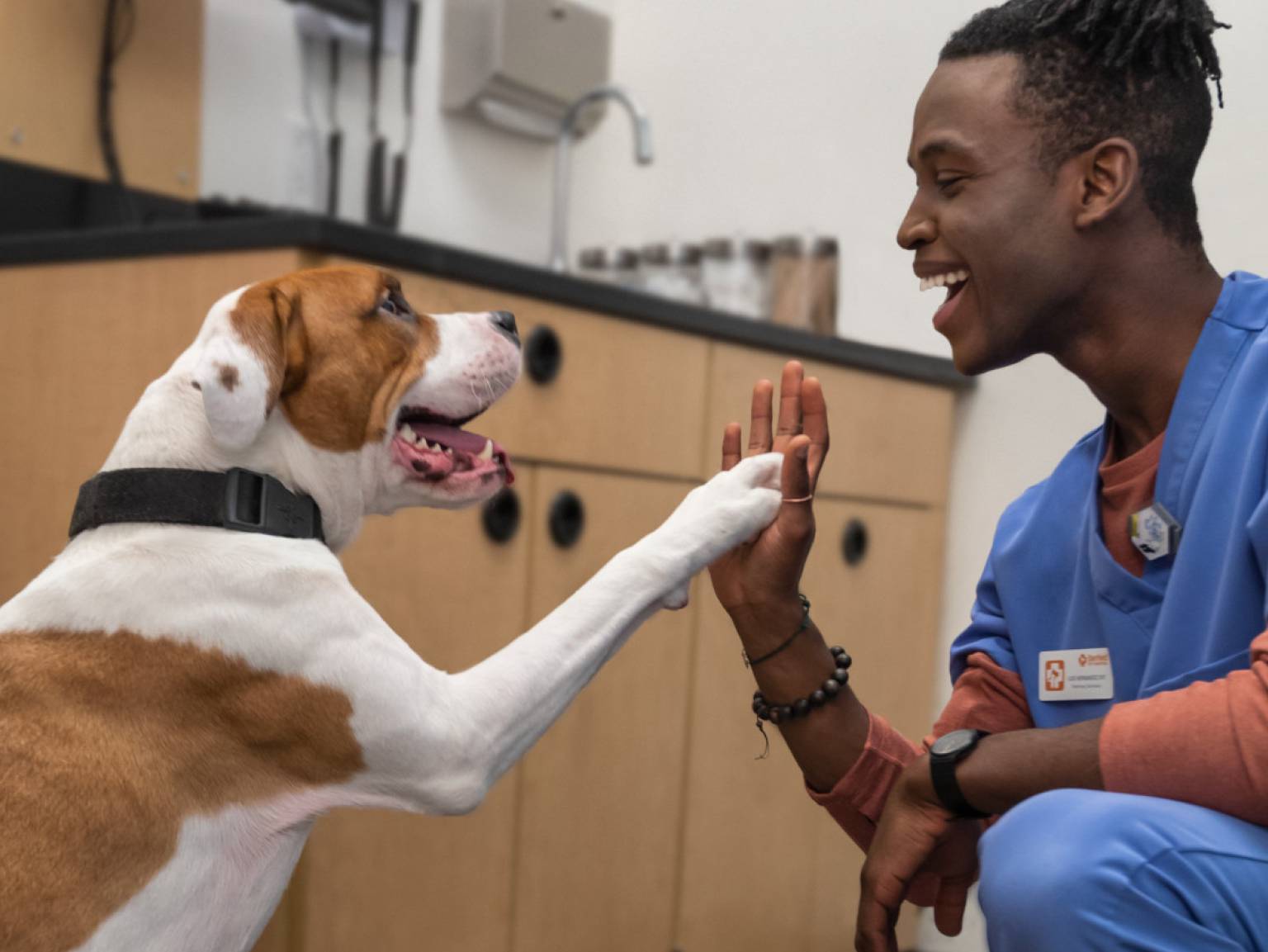 How Banfield can help
Pet records are available 24-7 in MyBanfield, either online or in the app. These include medical records, microchip information, and more. We recommend having a printed, up-to-date copy of your pet's records on hand, as you may lose online access in an emergency.
If you lose your records or can't get online, give us a call. A Banfield Associate may be able to help you access the information you need.