Banfield is here for the love, health, and happiness of dogs, cats, puppies, kittens, bunnies, guinea pigs, birds, exotic beasties, and more
Banfield is here for pets and the people who love them. Whether your pet likes to woof, meow, tweet, scuttle, hop, jump, or swim, we're devoted to helping them lead their best life with high-quality veterinary care, and smart and effective preventive health services.
Pay us a visit soon. We can't wait to meet you both.
We embrace all the love, laughter, and warm-and-fuzzy vibes that all pets bring into our daily lives.
Our approach to veterinary care
We deeply believe that pets are entitled to high-quality veterinary care rooted in sound clinical diagnostics, thorough therapeutic analysis, and the latest medical evidence. Our veterinary teams are empowered by three key principles: partnership, knowledge, and support.
Wellness: where love meets veterinary care
Every pet is unique. Because wellness will mean different things for different pets, our veterinary teams are dedicated to partnering with you to help the pet you love get the most out of all the wagging, purring, playing, loving, snuggling, and hugging that quality veterinary care can provide.
Optimum Wellness Plans® for cats and dogs
Our Optimum Wellness Plans® (OWPs) reflect our commitment to quality veterinary care. Smart and affordable, each OWP is a year-long package of high-quality, preventive veterinary petcare designed to support your pet's health with vaccines, physical exams, and more.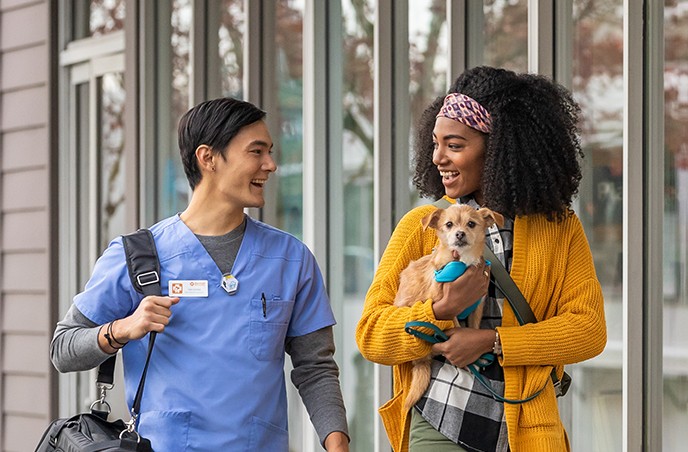 Our veterinary services
We offer a full range of professional veterinary healthcare services. From preventive care like vaccinations and effective parasite protection, to neutering and spaying procedures, to a full range of professional services —including behavior concerns, coat and skin issues, dental care, gastrointestinal distress, nutritional needs, orthopedic problems, and more — we're here with love and veterinary expertise for your pet.
See our services
Where to find us
With over 1,000 pet hospitals across the United States and Puerto Rico, there may be a convenient Banfield location right in your neighborhood.
Optimum Wellness Plans®
Affordable packages of smart, high-quality preventive petcare to help keep your pet happy and healthy.
See OWP packages