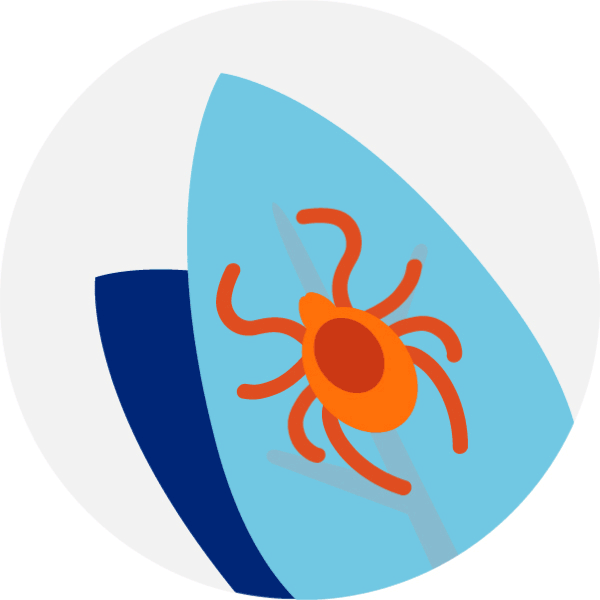 Ticks can spread Lyme Disease, Rocky Mountain Spotted Fever and more to puppies and kittens, cats and dogs
Besides being gross, ticks can also carry deadly diseases that can make big or little kittyBAEs and dogBFFs very sick. We're here with love, health, and flea and tick prevention for your pet. Ask your Banfield veterinary team about the right year-round parasite control for your pet's age, needs, and lifestyle.
Make an appointment
Preventing tick-borne diseases with safe, effective, year-round flea and tick protection is much easier, and more affordable, than treating flea-related disease, illness, and conditions.
One tick, three kinds of damage
Ticks are a triple threat every time they bite your pet, because every tick bite involves:
Physical damage from the tick bite
Effects on the immune system from chemicals in tick saliva
Possible spread of disease while the tick is feeding
Know the signs of tick-borne disease
Both cats and dogs can develop illnesses from ticks. If your pet has previously had ticks, and now has a rash, fever, or seems depressed or wiped out, they should see a vet.
Lyme Disease
Lyme disease usually shows up days or weeks after a tick bite. In addition to a rash, fever, and lethargy, your pet may also begin to limp or have sore, swollen joints. Banfield offers tests for Lyme Disease, Lyme disease vaccines, and flea and tick prevention to help your pet.
Ehrlichiois
Ehrlichia is a bacterial infection with multiple strains that can cause high fevers, rashes, and bleeding disorders in people and pets. If you suspect Ehrlichiosis, your veterinaryteam can run tests and prescribe medications that can help your pet recover from the disease.
Optimum Wellness Plans® 
Affordable packages of smart, high-quality preventive petcare to help keep your pet happy and healthy.
See packages