When you say "stay" and they go away
It's almost like dogs don't speak our language! Having trouble getting your doggo to follow commands? If it's an ongoing issue, then the problem may be more than simple disobedience. Here are some things you can do to reinforce basic obedience, plus when to know if it's time to see the vet.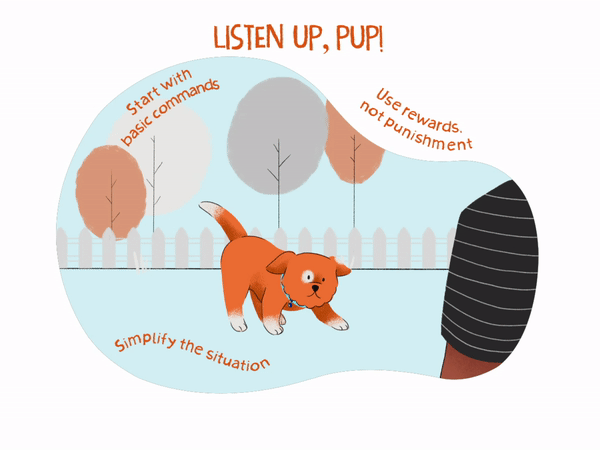 Why aren't they listening?
Why is your puppy ignoring the most important person in their life (that's you)? It could be that they need more reinforcement in their obedience training. Maybe a good sniff is taking up all their brain room, and they're too enraptured to pay attention to anything else. Or it's possible they could have an ear infection, or other health issue.
Reinforce basic commands
If you and your veterinary team cannot identify a health problem, then it's time to conquer some behavioral issues. These home methods can help you get your pup listening to your every word.
Go back to the basics. Start small with core commands like come, heel, sit, stay, and drop it. Simplifying the words and actions you want can help break things down for your dog.


Decrease the distractions. Distractions at dog parks or places with too many people can be just too darn fun to keep your puppy's attention on you. Work on basic obedience at home before you take it to the park.


Be consistent with commands. For them to stick, commands have to be the same every time. Changing words or even tone can be confusing for pups.


Seek professional help. Professional dog trainers and behaviorists can help you decode what your dog needs, and help you teach them what you expect. See more about basic obedience training
Training a new puppy is as much an art as a science. Don't get discouraged if it doesn't work out on the first try. A good puppy training class can go a long way.
How Banfield can help
If you suspect your dog's inattention is due to a health concern or hearing problem, please come talk to your veterinary team. We can help with tests to identify underlying medical issues and discuss options for your pet. We may even be able to recommend local training resources and other resources to explore.
Optimum Wellness Plans® 
Affordable packages of smart, high-quality preventive petcare to help keep your pet happy and healthy.
See OWP packages