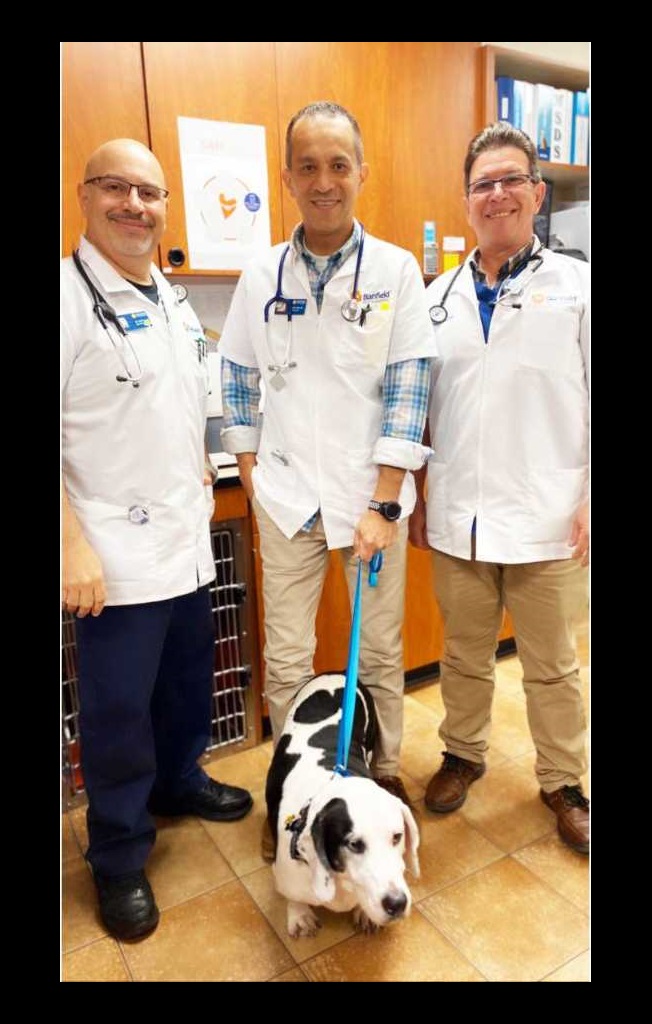 Banfield's

here for the love, health and happiness of your pet
Calling all dogs and cats of Osceola County! Our Kissimmee location near the intersection of W Osceola Pkwy and John Young Pkwy is here to provide quality care for pets in our community. Beyond routine check-ups, we offer spaying and neutering, microchipping, DNA testing, teeth cleaning and ear exams.
Our pet hospital, staffed by our passionate team, is equipped to provide a range of services to support the well-being of your best friend. Whether they need testing, diagnostics, surgery or support, our veterinarians and vet techs are dedicated to your dog or cat's health.
How to find us:
We are located inside PetSmart on Centerview Boulevard.
Interested in an affordable preventive care package for your BFF? Take a look at our Optimum Wellness Plans®.
Our team
Jordan
Corry

,

CVT

Credentialed Veterinary Technician
Jordan has been working in veterinary medicine since 2016. She obtained her associate of science degree in veterinary technol
About Jordan

Corry
Jannette
Orsini

,

CVT

Veterinary Technician
Janet joined Banfield Pet Hospital in November 2021. She graduate from the University of Puerto Rico with a bachelor's degr
About Jannette

Orsini
My name is Allan Avila and I am the practice manager for the Banfield in Kissimmee Florida. I have been with Banfield for the
About Allan
Atiya
Tyson

Veterinary Assistant
My name is Atiya Tyson. I've been in veterinary services for over 10 years. Some hobbies I enjoy are going to the gym, taking
About Atiya

Tyson
Chianne
Hall

Veterinary Assistant
My name is Chianne, also known as Chi. Growing up, my family and I had tons of pets! Birds, rabbits, guinea pigs, dogs, cats
About Chianne

Hall
Isabella
Veterinary Assistant
From a young age, Isabella has always had a love for all types of animals. Veterinary medicine wasn't a career she had consid
About Isabella
Luis
Veterinary Assistant
Luis " Lucho" Cerrada, originally from Venezuela, is an engineer in Animal Production and holds a graduate degree in Agricult
About Luis
Madeline
Boles

Veterinary Assistant
My name is Maddie and I have been in the Veterinary field for three years now. I have transferred from North Carolina to Kiss
About Madeline

Boles
Mary
Veterinary Assistant
Hello, I'm Mary. I was born and raised in Colombia, where I became in a professional vet. Then in 2020, I decided to change
About Mary
Monica
Elias

Veterinary Assistant
Monica has been working as a vet assistant for four years with Banfield. She will be attending school to get her Veterinary T
About Monica

Elias
Ricardo
Miliani

Veterinary Assistant
Veterinary doctor graduated from the Central University of Venezuela in the year 2000. I have been working as a veterinary a
About Ricardo

Miliani
Camille
Forester

Client Service Coordinator
Camille was born in Virgina Beach, VA and moved to Florida when she was four years old. Ever since she was young, Camille has
About Camille

Forester
Kathleen
Barrios

Client Service Coordinator
My name is Kathleen, but many prefer to call me Kat. I go by this saying of, "I have been chasing the sun." The reason behind
About Kathleen

Barrios