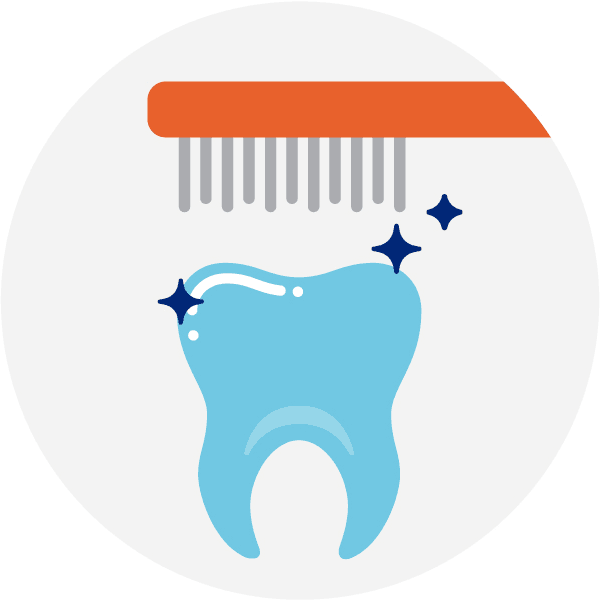 Professional dental cleanings can help treat tartar and prevent advanced dental disease
Professional teeth cleanings can help your BFF live a happier, healthier life. Our veterinary teams clean above and below the gumline, checking their oral health and removing tartar – a hardened paste of old food, bacteria, and saliva – that can lead to painful gum inflammation, tooth loss, and more.
Five steps to a happier, healthier mouth
Step #1:
First appointment: We check for tartar
After a complete oral exam, your veterinary team will let you know if they recommend a professional dental cleaning for your pet. Then we'll work together to get your pet's procedure on the books.
Step #2:

Second appointment: Start with a

nesthesia

Pets aren't great at sitting still with their mouths open, so professional dental cleanings are always done under anesthesia. Before we begin, we run a pre-anesthetic exam with blood testing, which includes a complete blood count, internal organ screens, and electrolyte infusions.
During the procedure, we constantly monitor your BFF's vitals to ensure they are safe and comfortable.
Step #3:
Let the cleaning commence
A typical professional dental cleaning includes ultrasonic dental cleaning, tooth polishing, and hand scaling above and below the gum line. If we see anything that needs more than just a cleaning, we may need to make another appointment to get it done.
Step #4:
We stay in touch
Although you won't be in the room with your pet, you can expect updates for any additional recommendations during the procedure.
These may include:
Dental x-rays
Extraction of diseased teeth
Local anesthetic injections for pain (nerve blocks)
Oral surgery
Post-cleaning rinse with an oral care solution
Step #5:
Time to go home
After the procedure, we continue to monitor your pet through anesthetic recovery. A member of our team will call when your pet is ready to head home with their nice clean teeth, and to help make a new appointment if necessary.
Optimum Wellness Plans®
Affordable packages of smart, high-quality preventive petcare to help keep your pet happy and healthy.
See packages