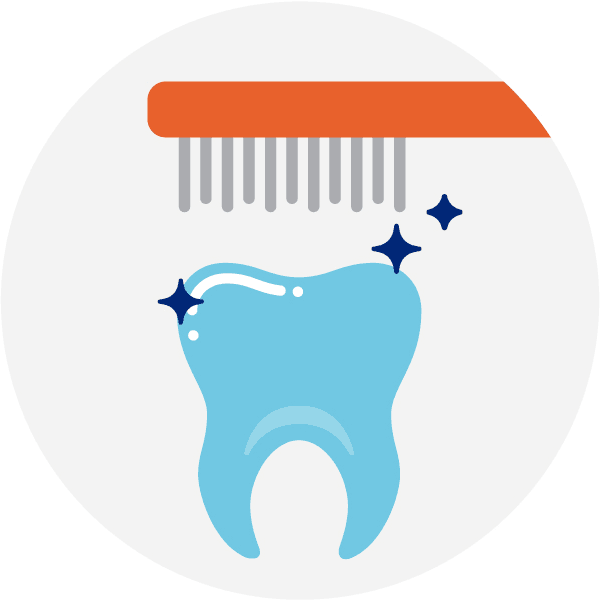 Professional dental cleanings can help treat tartar and prevent advanced dental disease
Professional teeth cleanings can help your BFF live a happier, healthier life. Our veterinary teams clean above and below the gumline, checking their oral health and removing tartar – a hardened paste of old food, bacteria, and saliva – that can lead to painful gum inflammation, tooth loss, and more.
Five steps to a happier, healthier mouth
Step #1:
We start by checking for tartar
After a complete oral exam, your veterinary team will let you know if they recommend a professional dental cleaning for your pet.
Step #2:
Anesthesia
Pets aren't great at sitting still with their mouths open, so professional dental cleanings are always done under anesthesia. Before we begin, we run a pre-anesthetic exam with blood testing, which includes a complete blood count, internal organ screens, and electrolyte infusions.
During the procedure, we constantly monitor your BFF's vitals to ensure they are safe and comfortable.
Step #3:
Let the cleaning commence
A typical professional dental cleaning includes ultrasonic dental cleaning, tooth polishing, and hand scaling above and below the gum line. Our team may make discoveries, and contact you to recommend additional diagnostic tests or therapy.
Step #4:
We're always in touch
Although you won't be in the room with your pet, we'll always call you with updates, plus any additional recommendations, during the procedure. This may include:
Dental x-rays
Extraction of diseased teeth
Local anesthetic injections for pain (nerve blocks)
Oral surgery
Post-cleaning rinse with an oral care solution
Step #5:
Time to go home
After the procedure, we continue to monitor your pet through anesthetic recovery. A member of our team will call when your pet is ready to head home with their nice clean teeth. They'll also give you after-care instructions for diet, activity, and pain relief as needed.
Optimum Wellness Plans® 
Affordable packages of smart, high-quality preventive petcare to help keep your pet happy and healthy.
See packages