what's great about

crate training a puppy
Help your puppy feel cozy in a crate
As a den animal, your new pup will instinctively want a cozy, warm space to call their own — and as their person, they're counting on you to provide it for them. Deck out their den properly, and your new pup will come to love their safe little haven.
How to pick a crate for your puppy (and dog)
Keep in mind that puppies grow faster than you think. Your pup's crate should always be snug enough to make them feel safe, but roomy enough so they can comfortably stand up, turn around, and lie down. If you need help finding the right one, your veterinary team may have advice.
Adjustable: How big is your puppy, and how large will they be at full size? You'll want to decide if you want an adjustable crate, if one crate will work for life (for smaller dogs), or if you'd prefer to buy another down the line.
Plastic crates: Plastic crates give your pup a little extra privacy, are often more affordable, and are easily assembled and disassembled for travel.
Soft-sided crates: Lightweight and great for travel, soft-side crates often work for smaller dogs, but can be more difficult to clean (an issue if your pup hates road trips).
Puppy-specific crates: You may want to buy a specific crate for your puppy, then replace it as they grow larger. Some crates even offer removable panels so you can open up the crate as your pup gets bigger.
Heavy-duty crates: Great for heavy chewers, plus larger breeds, heavy-duty crates can be more expensive, but reduce the risk of your dog chewing through and escaping when you're not there to supervise.
Crate furniture: Some crates aren't pretty. If you're looking for an attractive option for your home, you may opt for one of the many crates that double as furniture.
Full or limited exposure: Does your pup like to look around or do they feel safer with less of a view? Wire crates have full exposure, while soft-sided crates with a minimal view. There are also covers you can purchase to enhance the "safe space" feel.
Portable: Will you need to move the crate around from room to room or travel? If so, consider a lighter or collapsible crate. There are also crates that come with wheels or can be modified with casters. You could also opt for one crate dedicated to travel (to keep in the car) and one for home.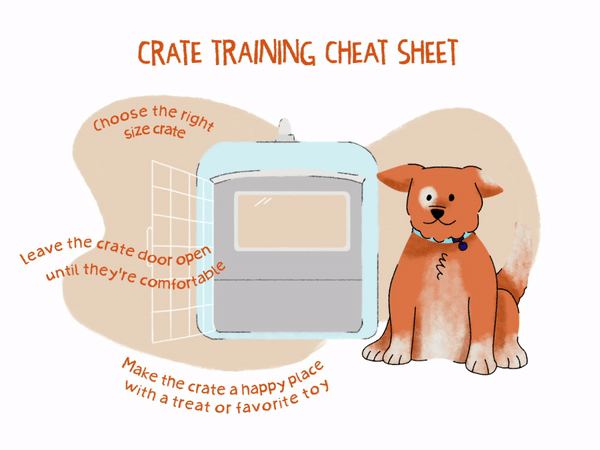 Once you have the right crate for your pup, put it somewhere your family spends time. Line it with towels, blankets, or bedding to make it as cozy and inviting as possible. You may even want to cover the crate with a blanket or towel so that it's nice and dark. However, if your dog begins to chew or destroy their bedding, remove it from the crate.


Pup, meet your new crate
As with any new thing you want to teach your pupper, getting them used to their crate requires patience and praise. Here are some steps we recommend and some things to avoid.
Crate things to do
Start by always leaving the door to the crate open. Place tasty treats, exciting toys, and even meals inside to encourage your pup to go in. When they do, shower them with praise.
Once your pup willingly goes into the crate, you can start to close the door for short crate sessions. These should be no more than 5 minutes at a time, always after play or exercise time, and after your pup has gone potty.
As your pup gets more comfortable, gradually increase the time they spend in their crate, as well as your actual distance from the crate.
Crate things to avoid
Never push, pull, or force your puppy into the crate. Period.
Do not use the crate for punishment.
If your pup is clearly distressed in the crate, let them out. You want them to always associate their crate with good feelings.
Don't praise or reward your pup when they come out, but only for going in.
A crate is not a place for a puppy that hasn't had enough exercise and attention. Bored pets can become destructive and associate bad feelings with the crate.
How Banfield can help
If you ever have any questions or concerns about training and your puppy's well-being, please reach out to your veterinary team. We're here for love, health, and happiness, and that includes helpful advice or suggesting other resources to help you crate train your pup.
Make an appointment